Legend

Short Track Boots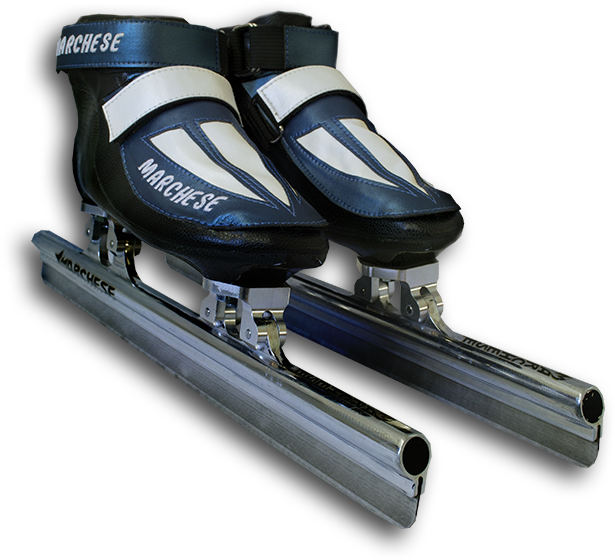 Once upon a time this upstart rebel of a sport emerged from the shadows of its long track big brother and began its inevitable climb to stardom. Along this same timeline Paul Marchese struck out on his own with an idea to reshape the crude racing skates of the day with a revolutionary design employing advanced materials in the hopes of igniting a technical metamorphosis. With a detailed deconstruction and reassembly of the short track skate a new standard had emerged, evolving every year into the refined precision instrument Marchese Racing produces today, one at a time. It is the Gold Medal Standard worldwide, a technological masterpiece handcrafted to each individual client to deliver unequaled high speed control, confidence and comfort. It's lightweight carbon fiber chassis exists as a unique monocoque construction to transfer every explosive push into the ice while simultaneously delivering telepathic feel detailing the unforgiving and changing ice conditions awaiting every step. Microfiber materials and thermo foams bring a fully molded upper construction to envelop your foot with unparalleled comfort. Machined aluminum mounting surfaces allow secure and precise blade attachment to complete a uniform system of repeatable, reliable contact under extreme racing conditions. Our relentless evolution has captured more victories than all other custom skates combined.
This is formula one for your feet, the gun you bring to a knife fight. If it was a drug it would be banned, luckily for you it is not.
A full consultation when we fit you will allow you to choose from an almost infinite range of personal customization, carbon stiffness, torsional control, thermoplastic reinforcement, thermofoam placement, microfiber designs and more. Our raw materials are sourced from the highest quality suppliers in the USA and proudly fabricated here in our studio by hand in the USA.
Features
Carbon fiber construction
Thermosensitive shell matrix
Variable density padding enhances the fit without excess foot movement
Lightweight synthetic micro fiber construction
Dual strap enclosure
Our passion drives us. With over 130 Olympic medals captured on Marchese skates, are you ready to fulfill your destiny?
Short Track Boot Gallery
Build your own short track boot using our Boot Customizer Tool.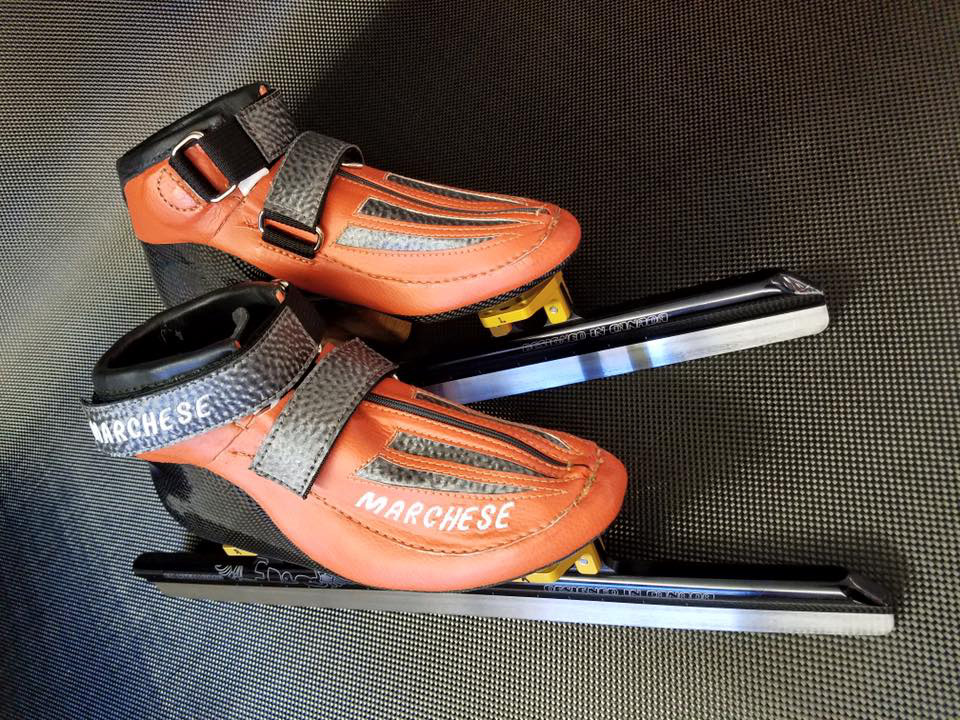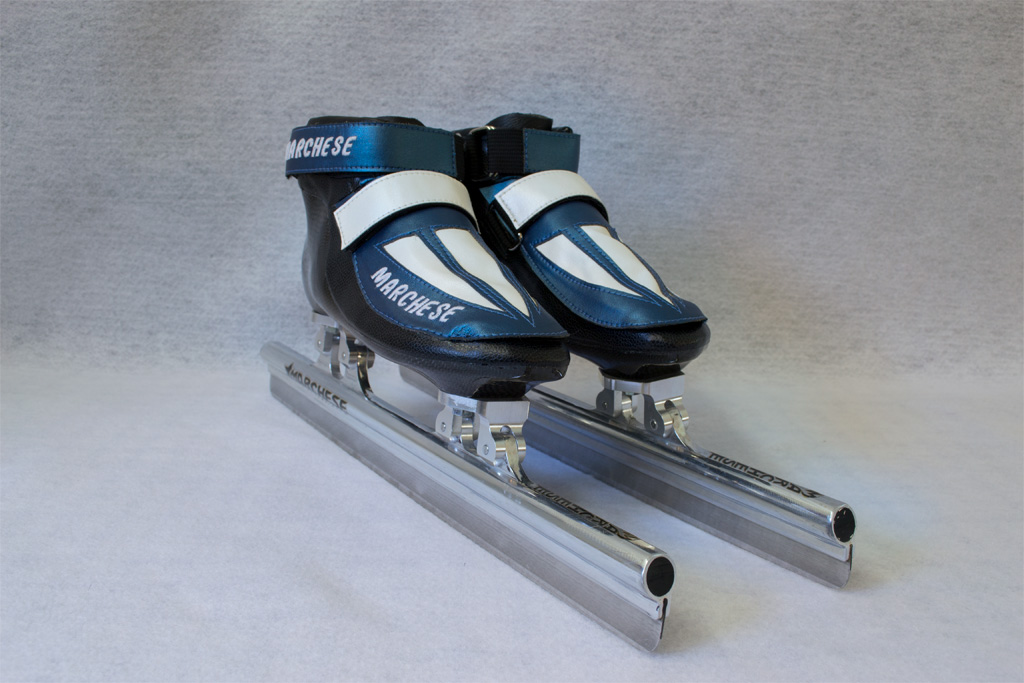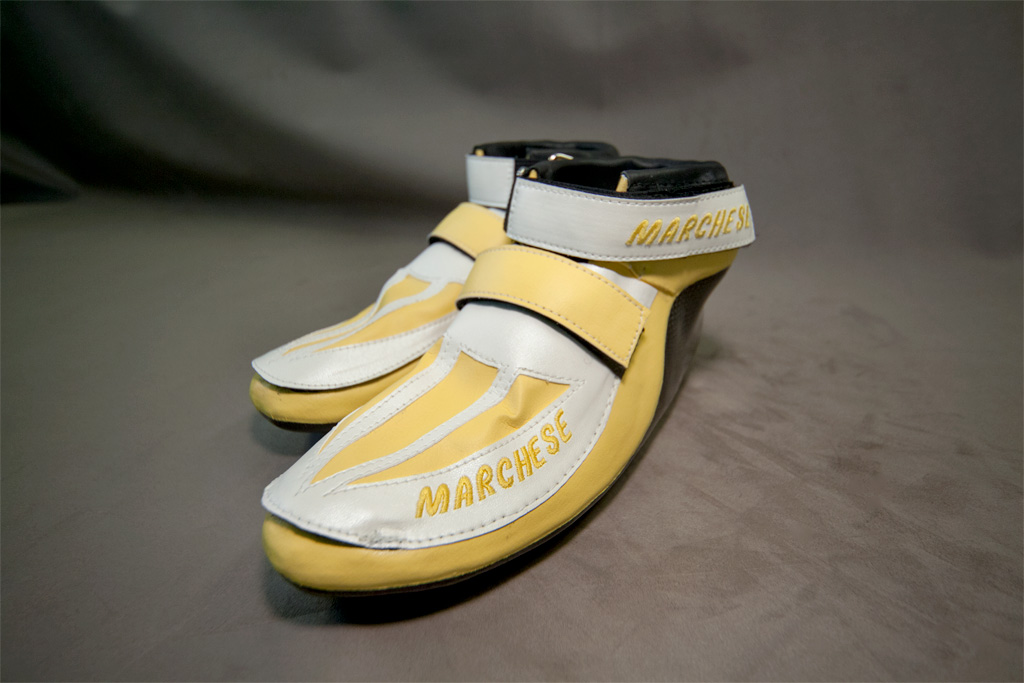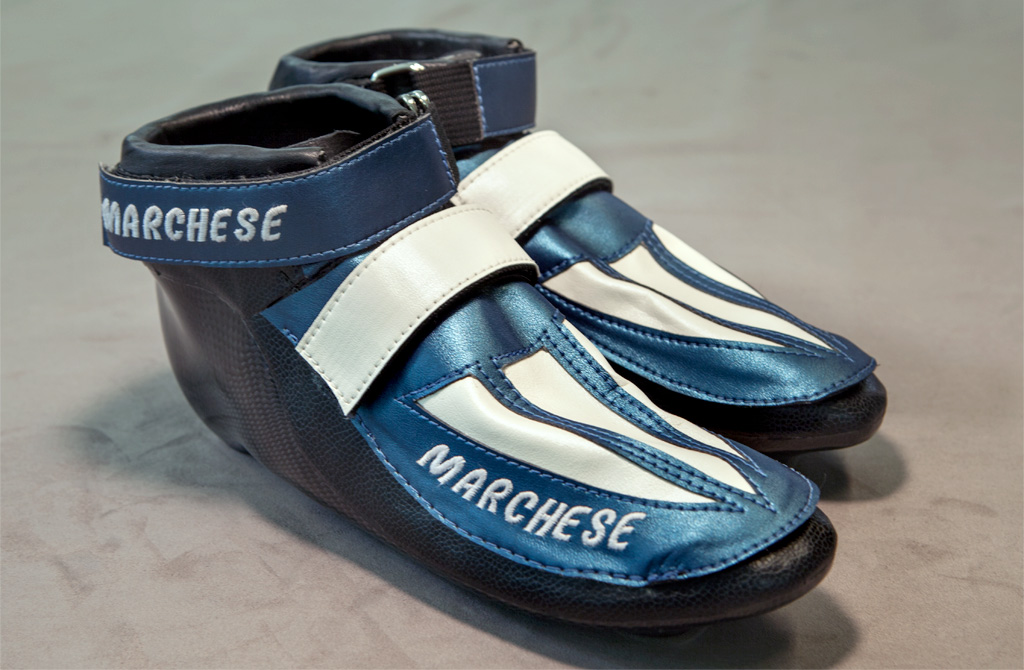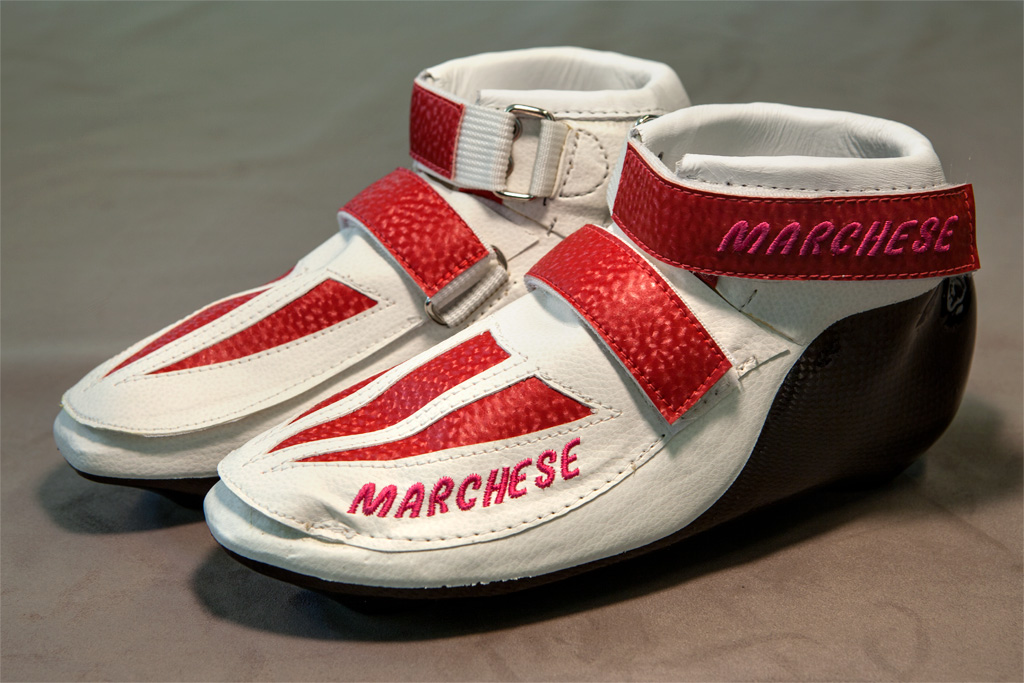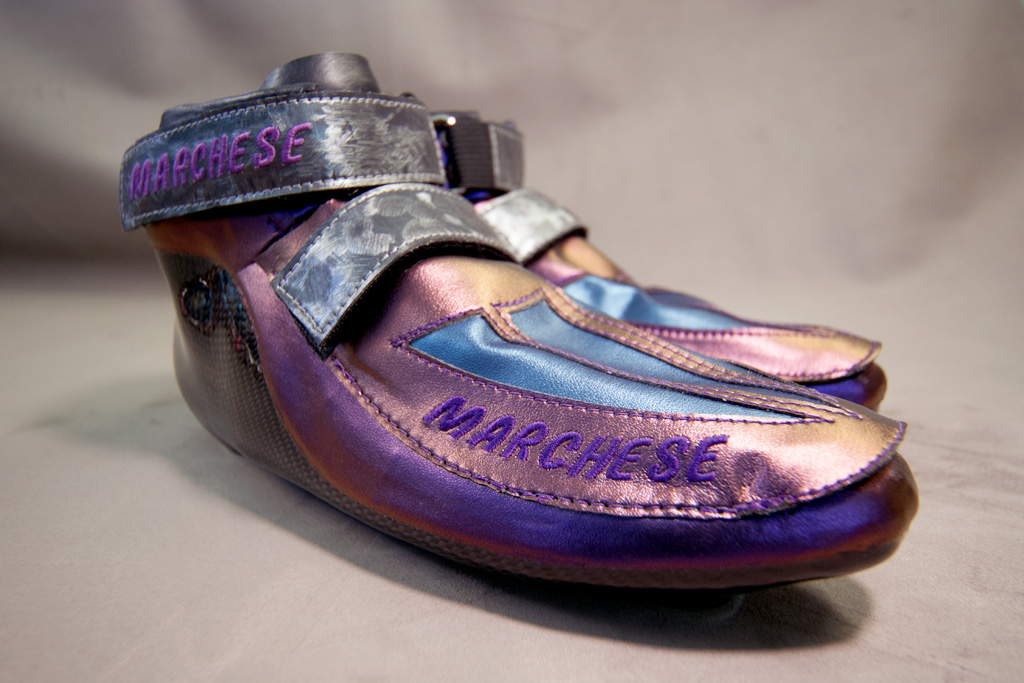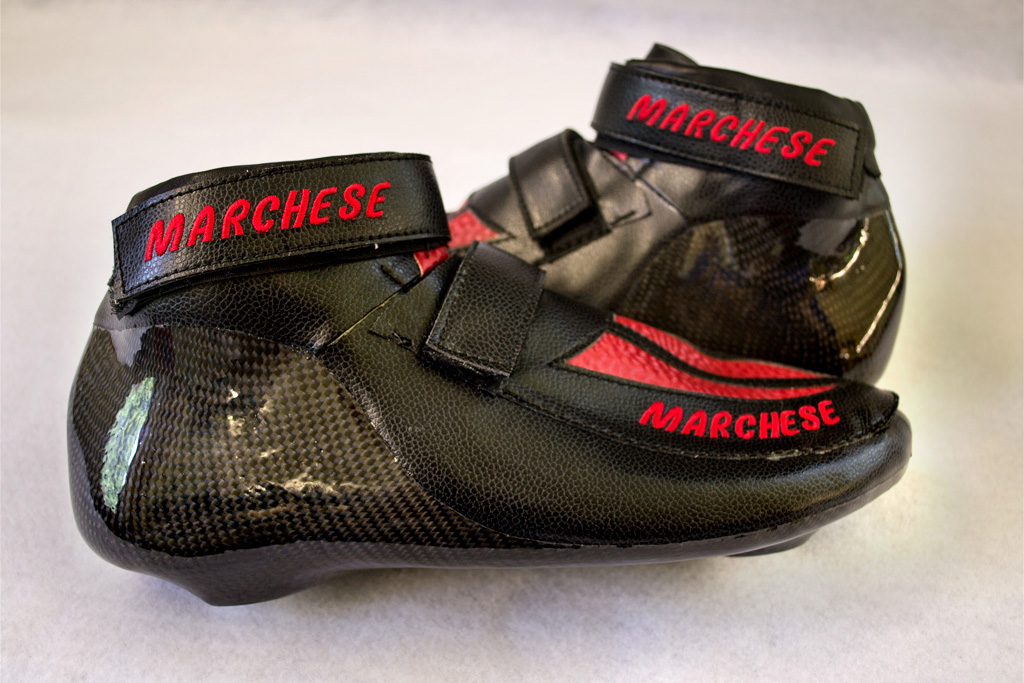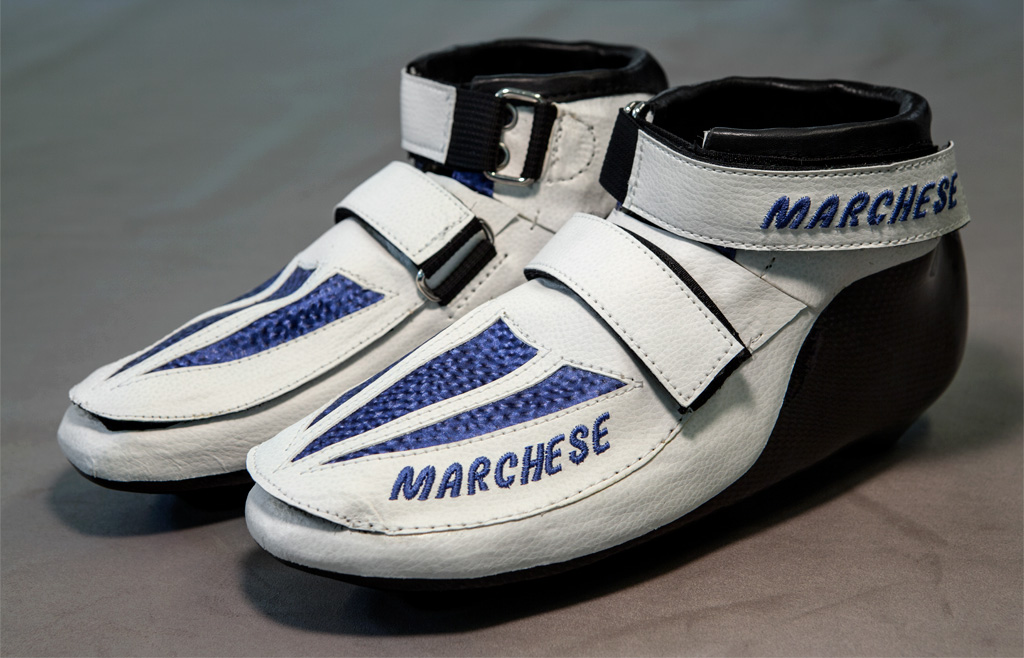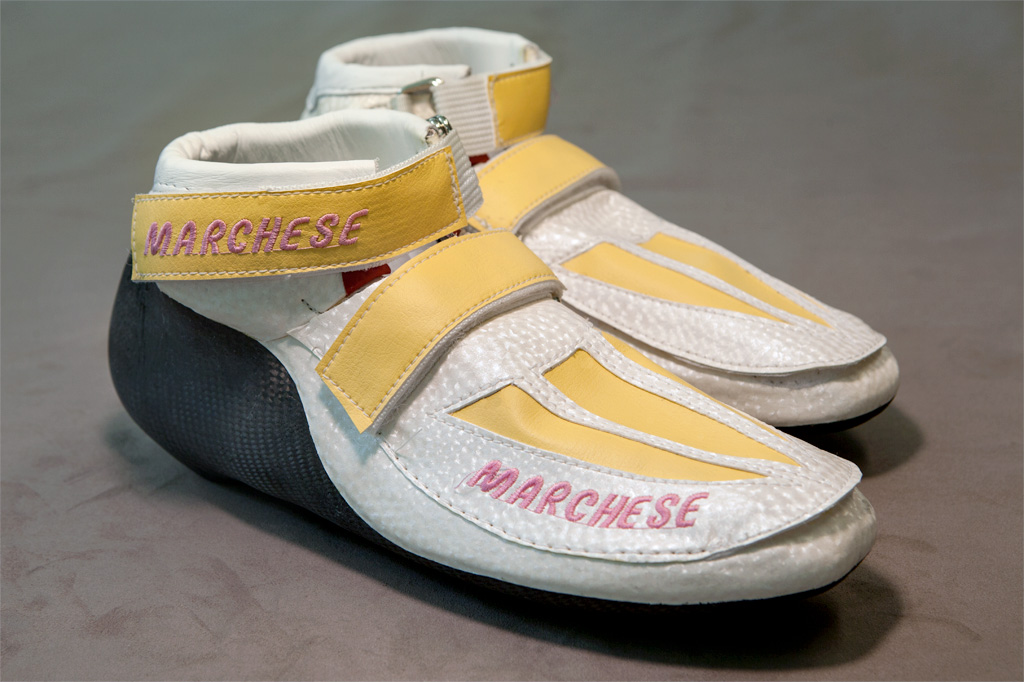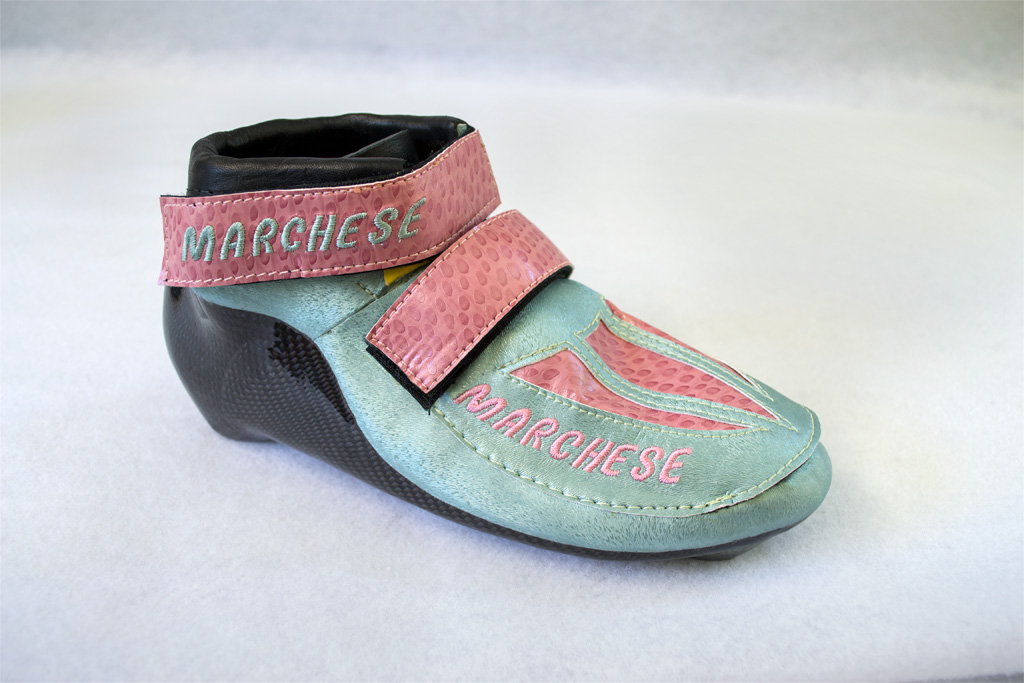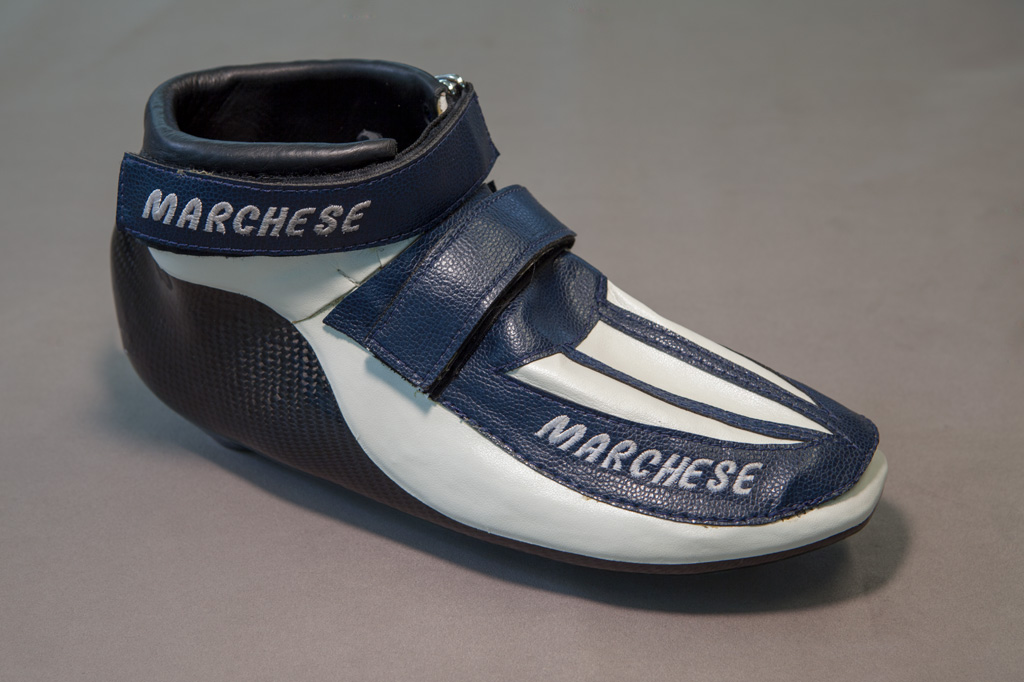 Revolution

Long Track Boots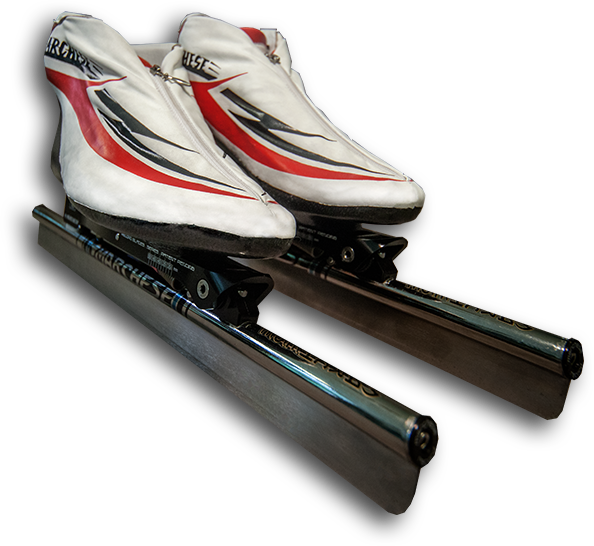 Our high speed pilots now top forty miles per hour, cocooned bullet trains of aerodynamic efficiency gliding across an immaculate frozen speedway with a mere millimeter of steel guiding their way. Complete precision can bring victory, an invisible misstep can bring disaster. Turning the sport on its head over twenty years ago emerged the revolutionary skate that Marchese Racing introduced to awake long track from its one hundred year slumber and shepherd it through its high speed future. Taking a page from our successful short track design and tuning our monocoque design for the big track meant a new carbon fiber chassis would be needed, different flexibility and mobility would be paramount and a modular blade attachment design allowed the easy change to the soon arriving clap skate mechanism. New lightweight synthetic materials comprised the laminated skate uppers and a fully enclosed aerodynamic cover completed an otherworldly form fitting replacement for the boxy all leather antiques masquerading as cutting edge at the time. You didn't lace these new skates around your feet, they fit as if painted on your feet. The long track revolution was now complete, our skate was a paradigm shift when we created it and remains the Gold Medal Standard today with a constant evolution of our design with meticulous attention to every detail. Incredibly lightweight construction yet durable, stiff yet compliant, transferring explosive acceleration yet delivering delicate control. Sleek, aerodynamic, stealthy. Yes you can have it all.
A full consultation when we fit you will allow you to choose an almost infinite range of customization, carbon stiffness, torsional control, thermoplastic reinforcement, thermofoam placement, microfiber designs and more. Our raw materials are sourced from the highest quality suppliers in the USA and proudly fabricated in our studio here in the USA.
Features
Half the weight of a typical long track skate
Heat moldable foam interior
Semi-rigid moldable tongue
Machined aircraft grade aluminum mounts provide a positive attachment of blades
Any combination of boot height and stiffness
Carbon fiber counter and sole with variable flex pattern
Custom built to accommodate any Clap blade setup
Windproof aerodynamic zipper lace cover
Long Track Boot Gallery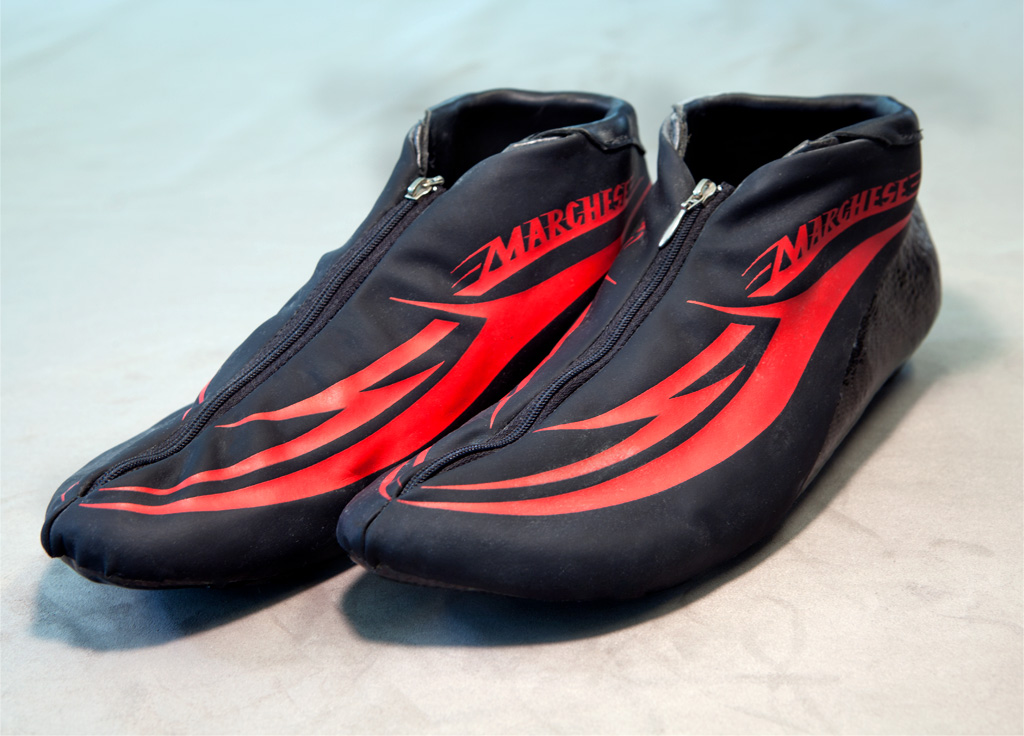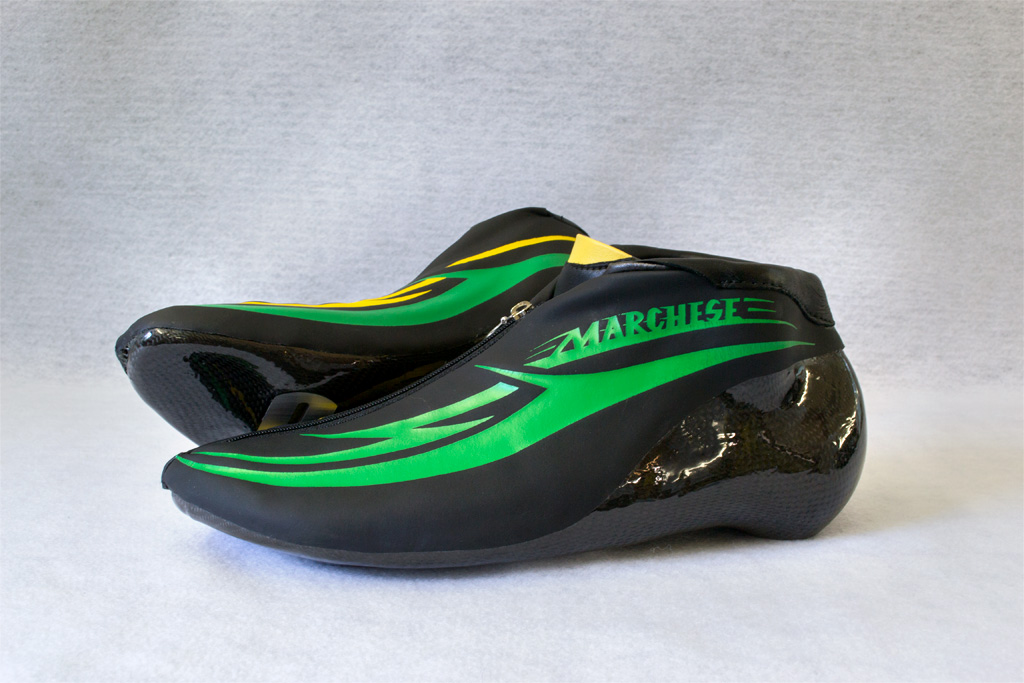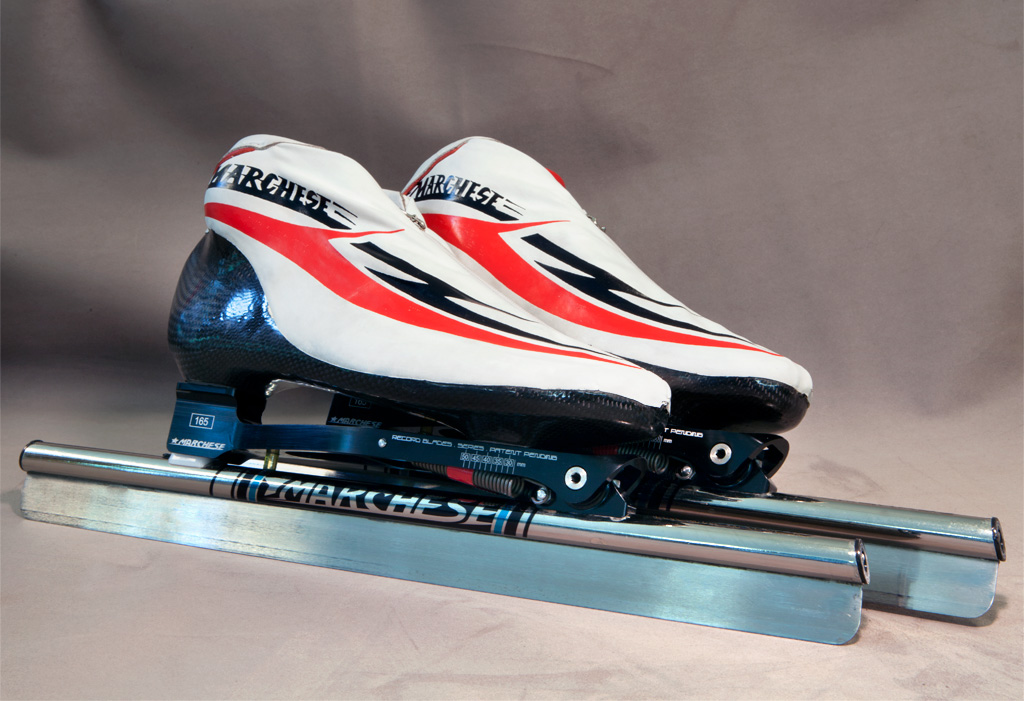 Dominate

Inline Boots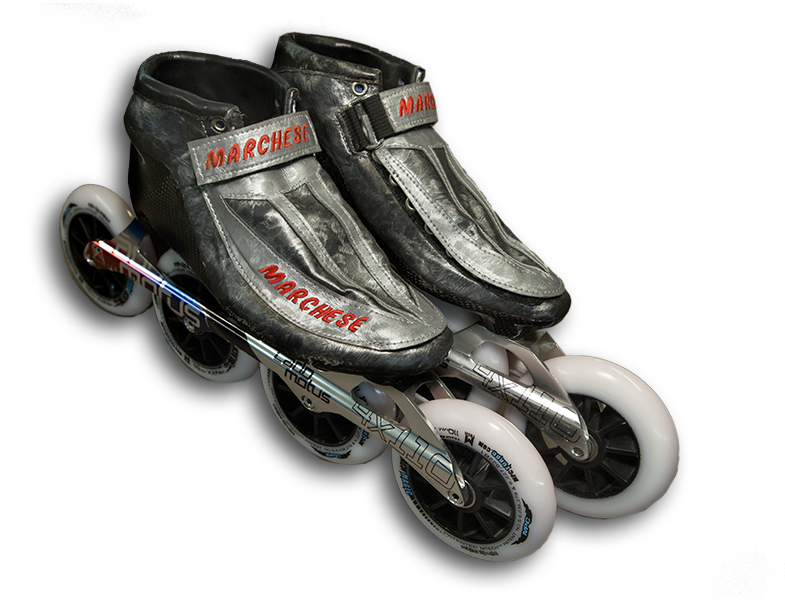 Quad skates once roamed the earth with unquestioned Paleolithic authority until the reinvention of the wheel, the inline wheel, brought an unceremonious end to its existence. Long before inlines gained racing prominence however, their use existed among a tiny band of long track ice skaters simply looking to replicate their training in the summer months in an age before covered long track ovals would appear and provide nearly year round ice. A young Paul Marchese looking to gain an advantage by keeping better continuity in his training as summer approached, built his first custom inline skates to mimic the technical movements needed on ice. Over the next few years the design evolved to address the unique needs of wheels on pavement versus blades on ice. Carbon chassis stiffness, padding durometers, vibration dampening, thermoplastic composites, frame attachments and breathable fabrics were enlisted. Elsewhere inline wheel compounds evolved quickly until, like a thunderous white light from the sky and calamitous earthly impact, quad skates were rendered extinct and a lone survivor emerged: inline skates. Out of this confusion Marchese inline skates had already evolved, arriving on the scene as if teleported from the future, dominating the racing world and winning everything imaginable on the road, track, indoor, sprints, marathons, National Championships, World Championships, Pan American Championships. Marchese Inlines had arrived full force.
Marchese inlines established the design and materials construction in use today around the world and continue to define uncompromising fit and performance. Our lightweight carbon fiber construction can be tuned for any use, from sprints to ultra marathon, outdoor to indoor, any frame attachment or wheel size. Our monocoque construction remains unique in the world and imparts an uncanny connection to your feet, lighter in weight and incredibly durable.
When you're ready for the best skates in the world then a complete consultation with us will enable you to hand pick every detail, and render your old skates to their true intended purpose: door stops.
Features
Velcro straps over lace closure to fine tune your fit
Extra-stiff carbon sole and counters
Higher cut leather upper with tapered stiffness for amazing support and control
Heat moldable thermo foam tongue provides greater comfort and "feel" at high speed
Lace cover keeps laces tucked in
Choices in padding
Exposed Achilles Pad
Choices of threaded or slotted frame attachment mounts
Inline Boot Gallery